MISSION
The Redevelopment Authority of the City of Harrisburg's mission is to eliminate blighting conditions that inhibit neighborhood reinvestment, to foster and promote sustainable neighborhood revitalization and urban renewal, and to facilitate new business and housing development.  Toward that end, the Redevelopment Authority:
Prepares and implements comprehensive redevelopment plans
Assembles real estate for redevelopment
Is empowered to borrow money, issue bonds and make loans
Can condemn property (
) in furtherance of redevelopment activities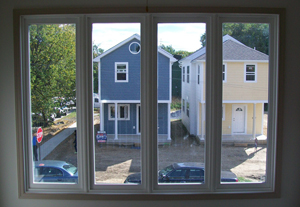 Established in 1949, the Redevelopment Authority partners with the City of Harrisburg's Department of Building and Housing Development to carry out the City's urban renewal and revitalization strategies. To achieve its goals, the Redevelopment Authority may itself redevelop real estate, but it primarily engages in public/private partnerships to leverage local, state, and federal funding for new business and housing development.

PRIVACY POLICY
Thank you for visiting the Redevelopment Authority of the City of Harrisburg's website ("Website"). We at the Redevelopment Authority of the City of Harrisburg (hereinafter "We" "Us" "HRA" or "Our") recognize the importance of protecting the privacy of certain information collected about the Users and Visitors of Our website (hereinafter "User" "You" or "Your"). The following statement explains our policy in regard to the use of any personal information You may give us as You use any part of this Website.

Information Collected
All information collected, whether or not personally identifiable, is not limited to text characters alone. It may also include, but is not limited to, audio, video and other graphic formats you send to Us. All information is retained in accordance with existing laws and other HRA policies.

If you visit a website maintained by HRA, we collect the following information:

Your domain name (i.e., "youremailaddress.com").

An IP address, which is a number assigned to Your computer whenever You are using the internet.

The type of browser and operating system You are using to access our site.

The internet address of the website from which You linked onto our site.

The pages You visit within HRA's site.

The links made to other websites through this site.

The information is gathered to create summary statistics, which are used for the purpose of determining what information is of the most and least interest to visitors and to help Us diagnose problems with Our computers or system administration and to compile aggregated information. This information is neither collected for any commercial marketing purposes nor does HRA sell information collected online for any commercial marketing purposes.

We may also collect information by specifically requesting it from You. Generally, this occurs when You request a service or information from Us. You may decline participation in any activity that asks for information from You. Your choice not to participate will have no effect on your ability to access information in HRA's Website.

HRA does not normally link IP addresses to anything personally identifiable, however, HRA can, and will, use IP addresses to identify You when we feel it is necessary to enforce compliance with our Terms of Use Policy or to protect Our service, site, Users or others.

Public Disclosure
HRA does not disclose any personally identifiable information collected online EXCEPT where you have given Us permission to do so or where the information is subject to disclosure under the Commonwealth of Pennsylvania Right-to-Know Law, 65 P.S. §66.1 et seq., or under the Commonwealth of Pennsylvania Municipal Records Act, 53 Pa.C.S.A. §1381 et seq., or any other applicable laws. Visitors to this site should be aware information collected by HRA website may be subject to examination and duplication, if such information constitutes a public record and is not otherwise protected from disclosure.

Cookies
Cookies are small pieces of information that a website sends to Your computer for record-keeping purposes. This information will be stored on Your computer's hard drive. Cookies will save Your preferences so that We can use the saved information to make Your use of Our site more enjoyable. By showing Us how and when Users use the website, cookies help Us see which areas of the Website are popular and which are not. Many improvements and updates to the Website are based on such data as total number of visitors and pages viewed.

Cookies do not tell Us any personally identifiable information unless You choose to provide such to Us. We never save passwords or other information in cookies. Most cookies expire after a defined period of time, or You can delete your cookie file at anytime. You can reset your web browser to refuse cookies or to indicate when a cookie is being sent. The use of cookies is an industry standard, and you will find that most websites utilize them.

Security
HRA strives to ensure the safeguarding of the submission of information by implementing detailed security and technology policies. The security of all information associated with our Users is an important concern to Us. We exercise care in providing secure transmission of Your information from Your computer to Our servers. Unfortunately, no data transmission over the internet can be guaranteed to be 100% secure. Whenever You give out information over the internet, that information can be collected and used by entities you do not know. As a result, We cannot ensure or warrant the security of any information you transmit to Us or from Our servers, and You do so at Your own risk. Once we receive Your transmission, HRA uses industry standard efforts to safeguard the confidentiality of Your information; however, perfect security is impossible.

Link Disclaimer
HRA may provide links to other governmental or other business/organizational websites. These websites are not owned or controlled in any way by HRA. As such, HRA is not responsible for the contents of such other websites, and inclusion of such links does not constitute an endorsement of content, viewpoint, policies, product or services of that website or any association with their operators. Our privacy policy does not extend to anything that is inherent in the operation of the internet or which is beyond HRA's control.

Information Disclaimer
Information provided on HRA's website is intended to allow the public immediate access to information concerning HRA. While all attempts are made to provide accurate, timely, and reliable information, we recognize the possibility of human and/or mechanical error. Therefore, HRA, its boards, officers and employees, expressly deny any warranty on the accuracy, reliability or timeliness of any information published by HRA and shall not be held liable for any losses caused by reliance upon the accuracy, reliability or timeliness of such information. Any person who relies on such information does so at his or her own risk.

Communications to HRA via this website shall in no way be deemed to constitute legal or official notice to the Harrisburg Redevelopment Authority of the City of Harrisburg, its agencies, officers, employees, representatives or agents with respect to any existing, pending or future cause of action or for any other purpose against the Harrisburg Redevelopment Authority of the City of Harrisburg its agencies, officers, employees, representatives or agents, where notice is required by Federal, State or Local law.

For questions or corrections regarding the information contained in this website, please contact our webmaster at (717) 255-3000.